In today's world, the trend towards business ownership continues to gain momentum – and one of the hottest areas remains that of the janitorial and carpet cleaning industry.
One reason for this is because these services are always in high demand.
Cleaning Up the Profits with Your Own Janitorial Business
Yet, the question remains for those who are considering opening this type of business – is it better to purchase an existing janitorial business for sale or to start a brand new cleaning company from scratch?
Continuing the Momentum
There are many who simply swear by purchasing an existing company.
This is because oftentimes an existing company will already have an established name in the community, along with a list of existing customers.
Because of this, it can cut off a considerable amount of time on the front end in terms of marketing and advertising.
Depending on how large the company is, it may also already have a staff on hand that is well trained and familiar with the company's processes and procedures.
The key to purchasing an existing company is to keep the current customers happy, while at the same time bringing additional new customers on board.
There is still likely going to be a period of transition – but in most cases, you will be able to get up and running more quickly than you would if you were starting a brand new janitorial company from scratch.
In terms of financing, you will likely be required to pay a set purchase price for the company to the previous business owner.
This may be worked out as a lump sum payment, or as installment payments over time.
Often, the seller may even stay on with the company for a certain period of time in order to ensure that the new owner becomes familiar with the company's operations.
This can really help to make a smoother transition.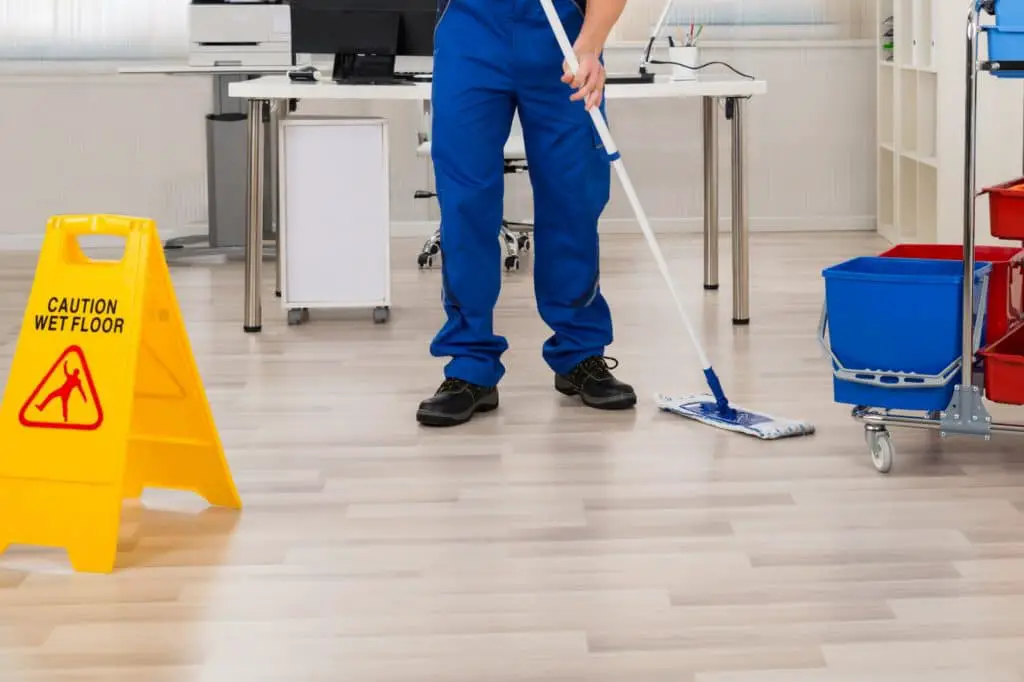 Starting from Square One
While there are numerous benefits to purchasing an already established carpet cleaning business for sale, there are also a great number of proponents for starting your own business – and for very good reason.
One of the biggest pluses for starting your own business is the control that it offers you.
As the owner of the company, you call all the shots. You also keep the profits. Likewise, if the company proves to be unprofitable, you attain the loss.
In either case, before opening the doors to your new janitorial company, there are some items that you will need to attend to. These should include:
Creating a Business Plan.

As your business is just starting out, you will need to create a business plan. Consider this your blueprint for success. It should outline how the business will achieve its goals, both short-term and long-term. It should also include financial and cash flow information. This is because lenders will want to review your plan should you request financing for a business loan.
Analyzing Your Competition.

In just about any industry, you're going to run into competition. Therefore, you should conduct a good analysis of your competition in your given market. Be sure to get a good idea of the prices they are charging and the type of services they offer.
Obtaining Financing.

If you need funding to purchase equipment, now is the time to apply. Depending on how much you need, you may opt to use funds from your savings, or borrow from a family member or friend.
Purchasing Your Equipment.

You will also need to purchase the equipment you need to conduct your cleaning jobs. At minimum, this should include an upright vacuum, mop, bucket, and liquid cleaners.
Obtaining the Proper Licensing and Permits.

Check into any business licenses or permits that you may need. Your local Chamber of Commerce can assist you with this.
Marketing and Advertising.

In order to get the word out about your company, you should start marketing and advertising. This can include using a number of different promotional tools, including radio and television ads, coupons in the local newspaper, and a Yellow Pages listing. In addition, most companies today have an online presence, so be sure that you have a company website. Here you can list your company's services, your contact information, and any coupons or promotions that you are offering.Your marketing should also consist of personally contacting local businesses in your area and trying to obtain commercial cleaning jobs. Offer to clean hallways, apartment buildings, offices, and small businesses. Some good contacts include real estate offices and property managers, as they have access to many buildings and properties.
Hire Staff.

Depending on how many jobs your company has going, you may need to hire staff members. This can include either full-time or part-time individuals. If so, be sure to check into their backgrounds. This will help you to ensure that you are hiring the right people for the job.
The Bottom Line
There are certainly pros and cons to both buying an existing business and starting a company from scratch.
Therefore, the decision that you make will really come down to what is most important to you in terms of company ownership, business control, and how quickly you want the company to get up and running at the beginning.